IT SERVICES
Whatever your need, we can solve IT.
OUR SOLUTIONS
Helping lead the global growth of our clients' businesses.
Fully Managed IT Services
Lenet provides outsourced IT Services for small and medium businesses with no internal IT staff.
Co-Managed IT Services
Ideal for organizations with their own existing structure, that want to outsource part or all of their IT management and support needs.
Cloud Management
Whether you're looking to migrate to the cloud, optimize your existing setup, or need ongoing cloud support, we've got you covered.
On-site support
In addition to real-time remote IT support,
our clients gain exclusive on-site interventions regularly
, ensuring that their tech infrastructure runs efficiently. Having an on-site specialist whom you can interact with is a valuable advantage.
Although most tech projects are completed remotely, office moves and network installation require a technician on-site. LENET provides on-site services in all cities of our operations, including
New York, Atlanta, and Miami.
REAL-TIME SUPPORT
You shouldn't have to wait days to resolve your tech issues.
---
Unlimited Service Desk

Unlimited Remote Support with IT Engineer

Microsoft Office 365 and/or G-Suite Management & Admin

Line of Business Application Support L1*

Third-Party Vendor Support

Managed Workstation

Operating System Patch Management

Maintenance Automation

Secure remote support

Inventory Reporting

Anti-virus

XDR Solution

Ongoing Risk Assessment
Cloud Services
Reduce the cost of your infrastructure by migrating your servers to the cloud. We propose cloud migration consulting, and we offer solutions to securely store your important data and access your documents from any location.
Our clients can rely on flexible security capabilities, where double authentication and backup security platform provide the technological solutions necessary to protect against potential risks.
Our cloud technology is resilient with the capability of multi-zone regions, and the ability to support different workloads.
Infrastructure cost reduction
Flexibility and scalability
We monitor your network infrastructure 24/7 to quickly and efficiently predict, identify and resolve problems as they occur.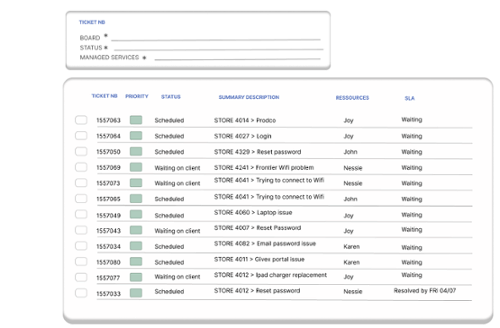 Hardware and Software procurement and configuration
Selecting the best hardware and software solutions for your business is paramount. Our technicians have real-time, researched, and data-driven knowledge to provide our clients with the best solutions. We directly access the manufacturer's top technical and support teams, enabling us to asses hardware, software, and network solutions.
Best pricing and leasing terms
Continuous review from our team to ensure and find the best solutions
LENET ONBOARD YOUR EMPLOYEES
1. Ordering laptops, monitors, docking stations, cables, etc.
2. Procure Software licensing.
LENET OFF-BOARD YOUR EMPLOYEES
1. Scheduled shut-offs of all IT User Access
2.License removal/ transfer
3. Wipe and reset team member hardware
4. Data backup
5. Hardware verification and inventoried
Low costs for an organized infrastructure
Network mapping, setup, and management in one team
REACH OUT
Our passion is to help businesses grow by simplifying their digital transformation. Tell us how we can help.