VOIP
Lenet's telephony systems increase savings by lowering your costs.
VOIP
Lenet's VOIP (Voice Over Internet Protocol) enables clients to use the internet as a medium for voice calls. Our telephony system, with intelligent technology and streamlined performance, increases savings for our client's businesses. IP telephony not only offers significant cost reductions but also creates new avenues of communication.


VOIP enables our users to integrate software programs like email and remote conferencing, over the internet via telephone.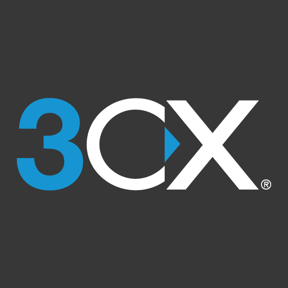 Reduced costs
Cost is based on system size, not on activity per-user.
Your choice
Choose between private cloud (off-shore location) and on-premise cloud (internal data center).
Remote friendly
Easier communication with multiple platform options: browser, phone app, and desktop app.
Higher productivity
Easily update your status and view your team members' availability.
Efficient phone system to replace expensive desk phones
No missing calls: call queue are available wether for individuals or groups.
Possibility to record calls for legal and quality monitoring purposes.
Be able to join any on-going call.
Work from anywhere: your office extension offers the option of working from a cellphone, a tablet, a landline or even a computer.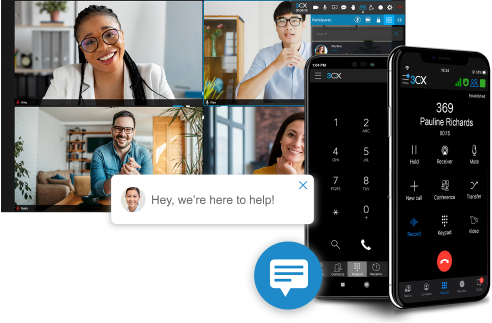 Web Conferencing
Easy to use: no need to download an app.
Unlimited users & no time limit on meeting duration.
Create audio and video conferences that you can stream on Youtube.
Schedule conferences and add them to your calendar automatically.
Possibility to share documents with whiteboard, chat & polling features.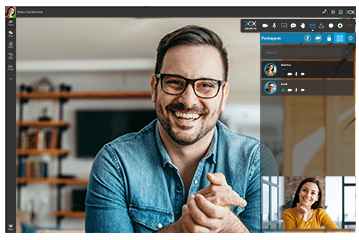 Communicate with your clients
Easily communicate with your clients using phone calls but also Live Chat, Facebook Messenger, and SMS. All centralized in one unique system, so you don't need to switch between apps and websites.
Live chat feature to help you turn web visitors into conversions.
Send SMS that contain reminders or updates to clients.
SMS, WhatsApp, Facebook & Live Chat messages are centrally managed.
Get reports to measure text messaging effectiveness.
Save on agents' time with a unique platform for messages and calls.
SET UP
---
We help you to set up the VOIP extension support to all your devices.
SECURITY
---
We make sure the system is stable while always having backups.
Security features are available such as anti-hacking.
RESPONSIVENESS
---
We surveil our clients' IT systems
24/7,
and we assign them their representative.
BILINGUAL TEAM
---
Our engineers are bilingual, which allows for optimal communication with our clients' employees who may be based in France.
How does VOIP help reducing costs?
International phone calls become a fraction of the cost of traditional providers' fees, and national calls are included with unlimited conference calls, including audio and video.



How does VOIP increase flexibility?
Access your calls anywhere you may be in the World and get calls on your phone without the app.
How customized can VOIP system be?
You will be able to connect the line to different team members depending on the time of the day and change marketing features such as hold-on music.
How can VOIP help your team make decisions?
The reports created by the VOIP system contain actionable data that can help you to make strategic decisions.
How does VOIP increase synergy in your team?
The VOIP extension system makes it easier for your team members who are currently on a call or busy and hence easier to make successful calls.
It is also easier for your team to cooperate, even in a remote environment: with the VOIP extension, anyone can see and listen to any ongoing calls on the system and even take part in the discussion if someone is in a difficult situation.
How does VOIP make contacts easier?
The VOIP extension can connect with various CRM (such as Zoho, Salesintel, or Hubspot), so you can easily import contacts lists.

On the other hand, the Click2Call button makes it very easy to make calls directly from CRMs and websites.
How to do upgrades?
You don't need to do it yourself; backups and upgrades are automatic.